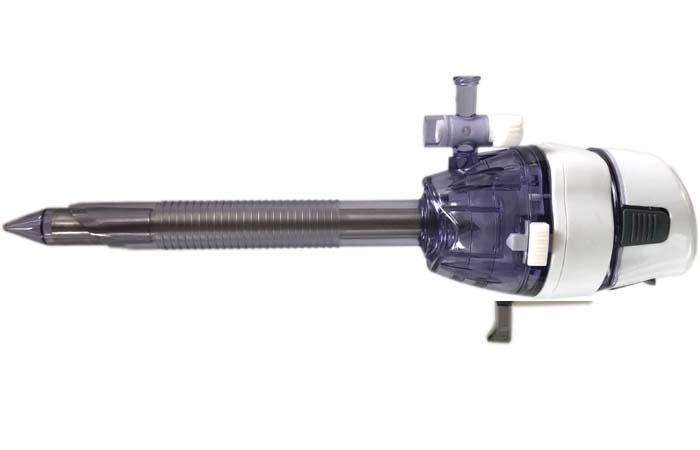 I. Description
This product is safety protection device, to ensure the safe and reliable puncture. Product by ethylene oxide sterilization, the package is sterile. The use is safety; complete configuration, easy operation; the disposable use, effectively avoid cross infection in hospital.
II. Application operation
The disposable trocar is applicable to all the patients with laparoscopic surgery operation.
III. External Structure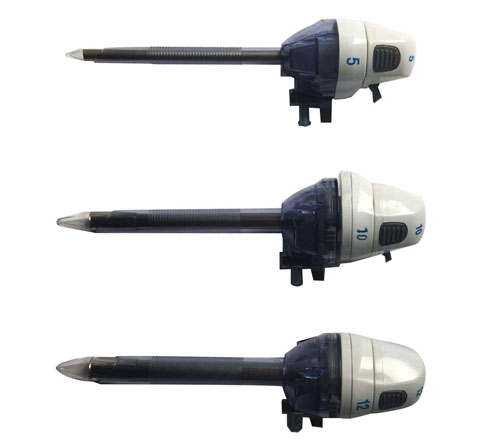 IV. Product Advantage
1. Single use only, avoid cross inflection
2. Unique design, small trauma, quick recovery
3. Thread design, perfect maintain of the veress
V. Instructions For Use
1. The sheath and the core rod is removed from the aseptic packaging, and the core rod is inserted into the casing sheath by the icon.
2. Puncture, the core rod seat placed in the palm, two fingers placed in the casing of the handle of the casing, a little hard grip, the top of the lock switch, you can puncture. At this point the sign is in the ON area.
3. Puncture process, if the indication of the signs back to the OFF, indicating that the casing has been penetrating abdominal cavity
4. Pull out the core rod, the 10mm sleeve can be used for 8 to 11mm of the device, the 5mm can be used for 3 to 6mm.
5. If it is standard, can be the first to use the veress needle, establishing pneumoperitoneum. Converter is provided for the use of 5mm devices in the 10mm of the casing, and can also be used to grab the abdominal cavity with blood, gauze, etc. The specimen bag is used to pack the specimen of the specimen.
VI. Attention
1. The product is disposable. It can be used after open the sterilized packing. It is forbidden to use if the package is damaged.
2. The product is disposable and is sterilized by EO. The packing is sterile and sealed. There is "sterile" on the packing box and also on it. The date of sterilization and the caveat which said it is forbidden to use if the package is damaged are also on the packing box. Sterilization period of validity is three years.
3. This instruction is only for general introducing and it can not be the instruction of the operation. The operator should take correlative medical literature
4. Dispose the instrument after use.
VII. Storage
The product shall be stored in a well-ventilated room where no corrosive gases exist and relative humidity is not more than 80%.
VIII. Specification Model & Manufacturer Contact Information
Model
Specification
Inner diameter for puncture casing(mm)
Outer diameter for puncture core(mm)
Total Leangth(mm)
Length for puncture casing(mm)
HASCCA
03
3.7
3.4
179
108
05
6
5.8
187
110
10
10.4
10.3
196
113
12
13.0
12.7
200
114
15
15.8
15.6
205
111
Model
Specification
Inner diameter for puncture casing(mm)
Outer diameter for puncture core(mm)
Total Leangth(mm)
Length for puncture casing(mm)
HASCCB
03
3.9
3.7
137
70
05F
5.9
5.7
163
93
05
5.9
5.7
170
100
10
10.9
10.7
191
100
12
12.9
12.7
193.5
100
Manufacturer: Changzhou Haiers Medical Deveices
Address: No. 2188 Longcheng Rd, Zhonglou District, Changzhou City China